Call us on 0844 804 4190
For all your Height Safety needs: Fall Protection and Restraint Systems,
Fall Arrest Body Harnesses, Restraint and Shock Absorbing Lanyards,
Rescue from Height Equipment. Tripod and Winches. Other associated PPE products.
.
Sala ExoFit NEX™ Suspension Harnesses Black 1113967
Description

The ExoFit NEX™ Suspension Harnesses. ExoFit NEX™ - Black Version: Rope Access & Suspension Harness: All black design for Theatrical Rigging and Lighting technicians as well as Police and Military use. Front and rear fall arrest points, and work positioning belt. Adjustable shoulders, waist and legs. LQC buckles on legs and shoulder. Available Sizes: Small: 1113965 Medium: 1113966 Large: 1113967
The ExoFit NEX™ Suspension Harnesses incorporate the most advanced technologies in the industry. 
These multi-use harnesses are ideal for professionals performing.
Rescue and emergency services.
Industrial rope access and Rigging.
Wind energy and Tower maintenance.
Arborist activities. 
An all black version is also available for Theatrical Rigging.
Lighting technicians.
Police and Military applications. 
The harnesses combine specialised designs, components and hardware to optimise rope rescue and industrial rope access work.
Capacity: One user: 140Kg
Maximum Arresting Force: 6kN MAF


Standards: 
CE EN361: Full Body Fall Arrest Harness
CE EN358: Work Positioning Belt
CE EN813: Suspension harness
Images: 1 | 2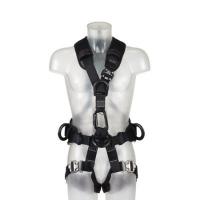 Click to view larger Image.